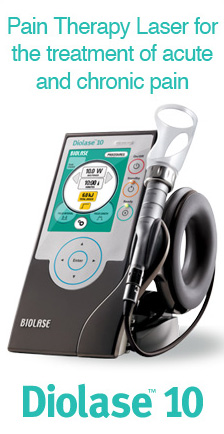 High Level Laser Therapy (HLLT) is a non-invasive, pain and side effect free solution for relief of pain in muscles, nerves, ligaments, tendons, joints and scar tissue. The Diolase 10™ delivers MORE POWER and DEEPER PENETRATION, which means faster recovery time and fewer treatments. The Diolase 10™ will get you back to feeling like yourself again in no time!
Wound Healing
For over two decades, laser therapy has proven both painless and effective in the area of wound healing. The laser delivers light energy to the cells, assisting its natural healing process and decreasing wound recovery time. Laser therapy is ideal for patients who have wounds that have not responded to conventional treatment, suffer from chronic wounds, such as diabetics, and have burns or surgical incisions that are not healing. There are no known side effects and treatments are safe, fast and trouble-free.
Pain Management
Imagine a pain free lifestyle, without pills, surgery, needles or negative side effects. Diolase 10™ is the cutting edge of pain relief. Receiving laser therapy treatments can shift you out of your pain and increase your quality of life. Your level of pain severity will determine how often you should receive laser therapy.
Sports Injuries
Overworking the body, a serious fall, or a rough collision with another athlete, typically causes sports injuries, such as sprains and fractures. This trauma not only takes you out of the game, but also may cause long-lasting side effects. Using BIOLASE'S Diolase 10™ laser, coupled with our existing protocols, assures you the most advanced and effective form of treatment for sports injuries. Our high-power laser allows for deep penetrative treatment of several connective areas within the injury. Diolase 10™ reduces both long and short-term side effects of injuries and accelerates the rate and quality of healing. In some cases, fractures have even healed at a multiplied speed.
Diolase 10™ is FDA Approved!
FDA Statement : The ezlase™ diode system emits energy in the near-infrared spectrum to provide topical healing for the purpose of elevating tissue temperature for a temporary relief of minor muscle and joint pain and stiffness, minor arthritis pain, or muscle spasm, minor sprains and strains and minor muscular back pain; the temporary increase in local blood circulation; the temporary relaxation of muscle